Free Workplace Safety Tips Newsletters

Safety in the Work Place
Behavior in the Workplace

SAFETY in the work place can be improved substantially
by focusing on behavior in the workplace.

The Estes Group specializes in helping you improve employee behavior to establish a culture of safety at your company. We have a unique, patented process that guarantees you will reduce accidents by your employees, if you follow it correctly.
Call us now for a free consultation


"We are doing a better job during the hiring process. The bottom line is The Estes Group has helped us lower accident cost."
Clifton Parker, President
G&P Trucking, Gaston, SC

Why Is safety important?

That may sound like a dumb question, but did you know that more than 8,000 people ask that question on Internet search engines - every month?

I know, you're thinking the people asking these questions must be your employees. If so, we're here to help you not only hire the safest workers and drivers, but also to retain them − with programs and processes based on years of research and experience.


Call us now for a free consultation


"Sitting around a conference room table with five people and Annette being 3,700 miles away, she was able to coach and support the process of discovering and identifying key employee accountabilities, behavioural styles, and motivators. I would recommend Annette and the process she facilitates to anyone looking to identify specific talents in prospective employees."

Frank Garrett, CRSP
Health, Safety & Environmental Manager
GLBH Corporate Services
Calgary, AB Canada


Behavior in the Workplace
Behavior and Attitude

The process Frank is recommending is called Job Benchmarking. Together, we focus on the behavior and attitude of your employees, because those two factors are the key to accident prevention.

Most workplace safety programs focus on behavior modification techniques - changing behaviors and attitudes so people will practice better safety measures. But it's extremely difficult to change another person's innate behavior and attitude. And even if you can, under stress, they'll revert to their natural behavior, not the adapted behavior you've so carefully trained them to perform on the job.

The fact is, people with certain behavioral styles and values are cautious and careful by nature, so they're already predisposed to practice good safety measures. You don't have to try to change their behavior. They're already who and what you need them to be. Job fit is crucial for a company's success, and especially where safety is concerned.

Does it work? You bet! One of our freight shipping company clients cut its accident rate by nearly 40% and slashed accident costs 62% − from $1.2 million to $456,000 over a 5-year period.
G&P's Safety Director Ben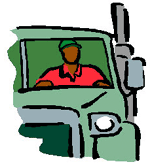 Harman told us, "You have had a significant impact on our hiring of safe drivers and reducing driver turnover."
Another client's Safestat score dropped from 97 to 25. The company's executive vice president says, "The driver assessment is an important part of our entire process. We would never sacrifice safety to fill an empty truck."
If your bottom line could stand a 62% reduction in highway or workplace accident costs, contact us today and let's get you started down the road to fewer accidents.
Our mission is helping your company:
Improve profitability

Reduce workers comp claims

Ensure compliance with your safety policies and procedures

Increase employee job satisfaction

Reduce employee turnover
IF YOU WANT TO KNOW MORE....
We welcome the opportunity to partner with you in corporate team building, employee recruiting, business leadership coaching, and meeting the objectives of your performance appraisal system.