Books and eBooks
Click here for the universal language DISC Reference Manual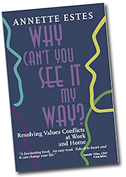 Discover:
Why people feel the way they do.
What Are Values?
Why are they a cause of conflict?
The book on relationship compatibility...
Why Can't You See It My Way?
Resolving Values Conflicts at Work and Home
by Annette Estes
Certified Professional Values Analyst
Buy it at:
Amazon.com
eBay (search Books, Non-Fiction, Self Help)


Also available at these fine bookstores:
Greenville, SC − The Open Book, Fiction Addiction, Unity Bookstore

Listen to Annette's interview with radio talk show host Roger Davis on WESC-FM − one of the most unique radio interviews with life coaches.

Read an article on conflict in the workplace published in The Greenville News about Annette's Book: "Maintaining Harmony in the Workplace" by Jenny Munro.

Why They Don't See it Your Way…
What do you value most?
Money • Power • Knowledge • Beauty • Service • Spirit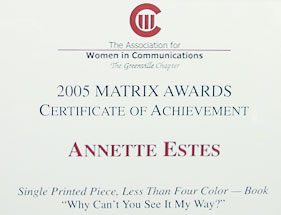 You'll see yourself and everyone you know in this book.
If you want to find your passion, be more successful, and improve your relationships, this book will help you. In it you will discover your personal values − what you must have in your life to be fulfilled. And it will help you understand people whose values are very different from yours.
Why Can't You See it My Way? explores six attitudes − or worldviews − we all have in varying degrees.
Reading it will give you insights into why people feel the way they do about money, power, knowledge, beauty, service, and spirituality. Most importantly, you'll discover ways to resolve the conflicts that arise from value's differences − both internal and external.
It's easy to read and filled with real-life examples of how our personal values interact and sometimes conflict with others.
When you discover ways to see it their way, they'll be more likely to come around and see it your way. And that is relationship compatibility.
This Book Is For:
Business owners and CEOs who want to develop executive leadership skills that few people possess

Managers responsible for motivating their employees and team members wanting to develop more effective workplace communication and improve their team conflict management skills

People who want to achieve better relationship compatibility with the important people in their lives
And if you're in the process of choosing careers, deciding whether to change careers, or want to add to your career builders toolbox, Why Can't You See it My Way? may inspire you to say, "Oh, that's what I should be doing." Many wise people have advised you to follow your bliss. But how can you when we're not sure how to find your passion? This book alone − and especially combined with your own personal values profile − will give you clarity about how to know what you want and align your life around what you value the most.
You can order the published, soft cover version of Why Can't You See it My Way? and have it within two weeks. Or you can order the ebook and get it right now. The ebook comes with five valuable free bonuses, including a complimentary personal life coaching session about what's most important to you.


Kudos from Readers


"A fascinating and powerful book for coaches and their clients. An easy read. Take it to heart and it can change your life."
Sandy Vilas, CEO
CoachInc.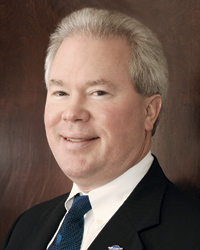 "In the complex, global business environment of today, building great teams with diverse viewpoints is essential to success. Annette's book gets to the heart of understanding people and the impact of their values on performance. Mastering these elements can make the difference between success and failure, accomplishment and disappointment, for individuals and teams alike."
Dr. Jeffrey Graves, CEO
C&D Technologies


"This is a MUST-read book for managers. One of those life-changing books. Annette has accomplished the nearly impossible by taking what could be a confusing subject and making it simple — and important — to understand.

Glenn Shepard, Author of How to Manage Problem Employees and the #1 best-seller, How To Be the Employee Your Company Can't Be Without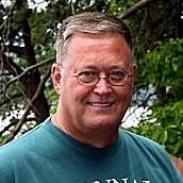 "Why Can't You See It My Way? is a must read for anyone who lives outside of a bubble! Annette has distilled a somewhat obscure and hard to understand science into an easy to comprehend digest that is immediately usable by business executives, sales professionals, parents, spouses and just about anyone who must work with or wants to get along with others on a one-to-one basis. This small book is packed with examples that bring the concepts to life and beautifully illustrate why even people who genuinely want to get along have such a difficult time. Understanding values, what one finds to be important, is an extremely valuable skill for business owners, executives and managers when it comes to hiring and retaining key talent. It is also an extremely valuable skill that every sales professional should master if they truly want to be in the top 10% of their industry. I highly recommend this book to anyone who wants to get along better with just one other person."
C. B. "Cork" Motsett, PMC, CPBA, CPVA, President & CEO
Business Development Specialists, Inc.
[Read Motsett's review on Amazon.com]



"This powerful book provides understanding and solutions to conflicts in both our professional and personal life. It is a MUST HAVE for anyone who works with a diverse team of people."
Jane R. Yousey, OTR/L, ACC
Author of A Field Guide for Families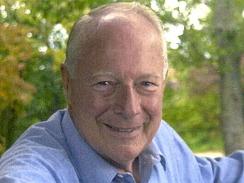 "Annette has distilled this book into a wise and usable blueprint that all of us can benefit from. Internalize it and it will make a difference in your life as well as those you touch."
The late James D. Cockman, Chairman
Sara Lee Food Service Division (deceased)

"Knowledge is Power! Reading this book will empower the reader to gain control over him/herself and many situations."
Bill J. Bonnstetter, Founder
Target Training International

"As a consultant who teaches these values concepts, I think Annette has done an excellent job in describing the six values/attitudes in this book. It is a 'must read' for anyone who wants to understand how their attitudes interact with each other and how different values color people's view of themselves and others."
Judy Suiter, President, Competitive Edge, Inc.
Author of Exploring Values: The Power of Attitudes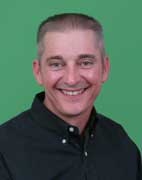 "An insightful book that peeks below the surface of relationship conflicts. Read it, apply it, and you will better understand why people feel the way they do."
Charles F. Boyd, D.Min
Author of Different Children Different Needs
"Why Can't You See It My Way? is a wonderful guide to a better understanding of why we feel the way we do, and why others feel the way they do as well! Annette brings this somewhat complex information down to an understandable format, and in so doing, equips us to make a journey into ourselves and others, and the values that make us tick. There are many spiritual moments, as well as moments of sheer common sense. Read, enjoy, and apply!"
Rev. Larry Snelson

"Your insight into the role that values play in our interpersonal relationships is fascinating. Several times as I read through your manuscript, I found myself thinking, 'Oh yeah, that's why it is so hard to get along with those people!'"
A religious leader who prefers anonymity
Order the published version here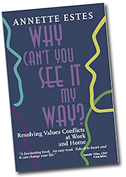 Get the eBook here, download immediately,
and receive 5 bonus gifts worth more than $200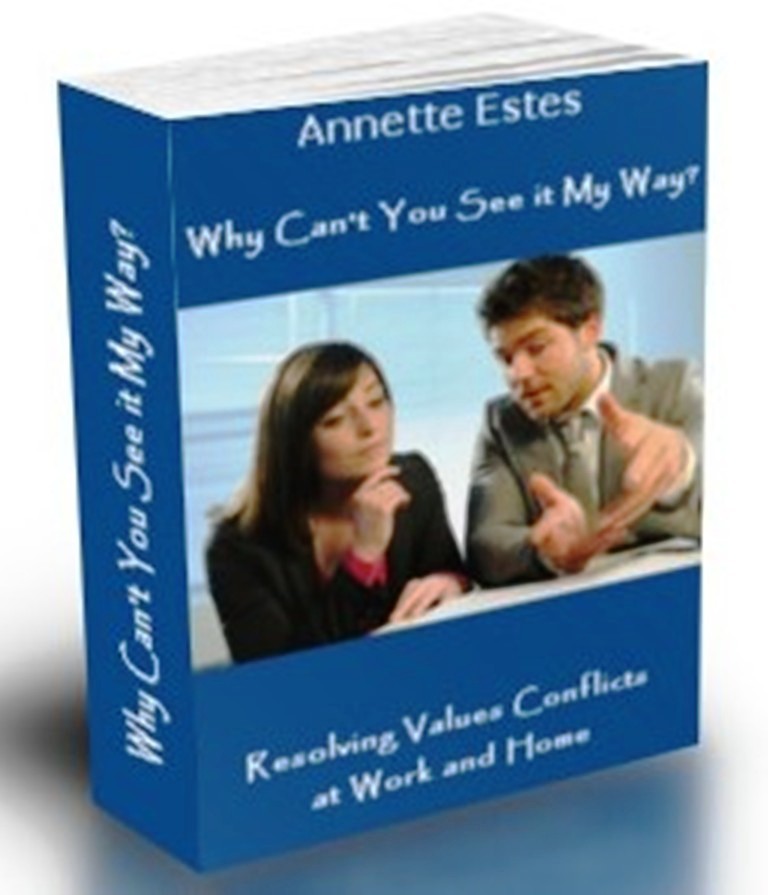 See all eBooks by Annette Estes
The Universal Language DISC - A Reference Manual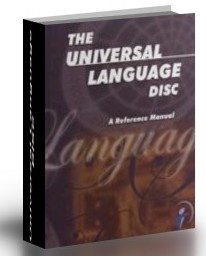 by Bill J. Bonnstetter, Judy I. Suiter and
Randy J. Widrick
The Universal Language DISC is the most comprehensive text on understanding and applying the knowledge of DISC behavioral styles I've seen. Written by three of the nation's outstanding DISC experts, this book gives you insight into understanding your own style, understanding others' styles, and learning how to adapt for more success in business and personal relationships.
This hard-cover manual contains over 350 pages of useful information on behavioral styles. It defines and establishes the parameters of the DISC language, provides solid logical reasons for the necessity of learning the language, and assists in the understanding of how behavior plays out in human interaction.

Fill in this form to order The Universal Language DISC

We respect your privacy and will never give out your contact information.
Refunds Policy