Personal Life Coaching
Click for Employee Coaching
Click for Leadership and Business Management Coaching
"Our chief want in life is somebody
who shall make us do what we can."
These words of Ralph Waldo Emerson sum up our coaching philosophy. With personal life coaching, the focus is on what you want and holding you accountable for taking the action you determine is important for your professional and personal success.
Attitude and Behavior Assessment
In coaching we work on the "who" more than the "what." We know you come to coaching for various reasons that center around your

desires for a higher level of success and finding happiness in life. Understanding your needs and wants is crucial in helping you reach your life goals.
Before our coaching begins, you will complete our attitude and behavior assessment - your Behavior and Motivators Report. This assessment will help us determine what you really, really want and guide us as you work on your strategic life plan.
Your Behavior and Motivators Report
The Behavior and Motivators Report measures your unique DISC behavioral style. It gives you a list of interpersonal skills and explains your communication style. It also helps you understand the communication styles of others to give you an advantage in your interactions with other people.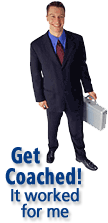 Your BMR assessment also defines your values, what you must have in your life to be fulfilled. In business it can help you make career choices and set career goals. The BMR assessment also provides resources for personal growth and development.
See a sample Behavior and Motivators Report
You can see that a deep understanding of these aspects of your personality can help tremendously in coaching you to have, do, and be your best! Work on your own personal foundation is the basis for achieving excellence in any area of life.
The most effective - and accelerated - way to begin your coaching is with our unique Professional and Personal Development Plan.
Our assessments are developed by Target Training International, the global leader in business assessments. I've been a Value Added Associate for TTI, since 1993 and a Certified Professional Behavioral and Values Analyst since 1995.
Read and download our assessment Validity and Reliability Report.

Read and download a summary of our assessment Validity and Reliability Report.

We welcome the opportunity to partner with you in corporate team building, employee recruiting, business leadership coaching, and meeting the objectives of your performance appraisal system.